Project de. is my vow to interpret the constant inspiration surrounding me and filter it to design and construct a single garment every month, for the entire year. I successfully completed this challenge in 2011, fell short of this challenge in 2014 and I am renewing my vow for 2014. These garments are a labor of love and a direct representation of my musings.
2014
FEBRUARY DESIGN: II XIV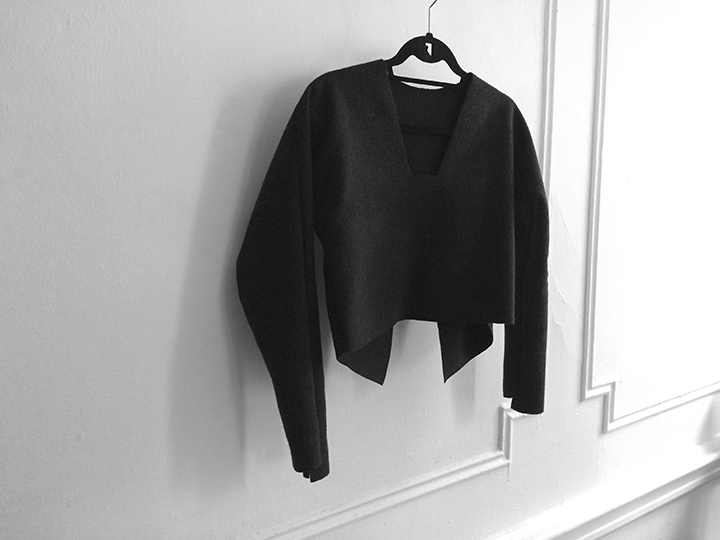 Looking forward to Spring, but realizing we aren't quite there yet, I designed a style that allows me to wear some of my spring dresses a little earlier this year. Made of structured felted wool, this angular style is warm and soft to the touch. Perfectly paired with this crisp white poplin dress from 3.1 Phillip Lim, it is an ideal layering piece to transition my winter wardrobe into spring. I can't wait to wear it with high-waisted pants and over chiffon dresses. View my inspiration for this style here.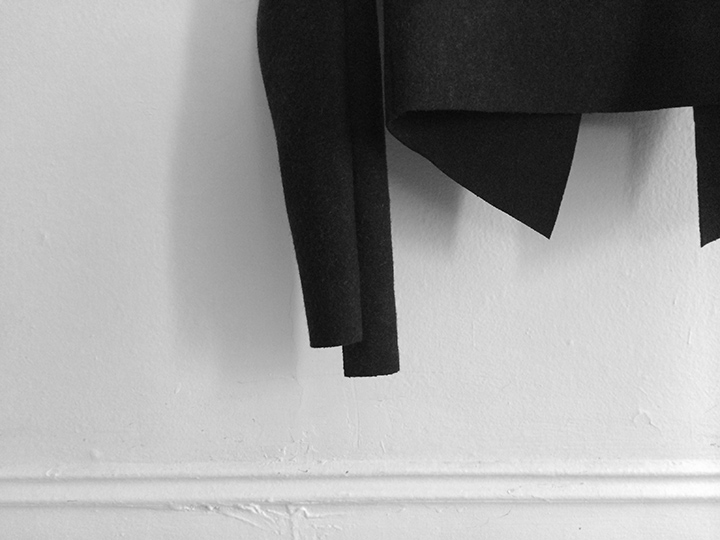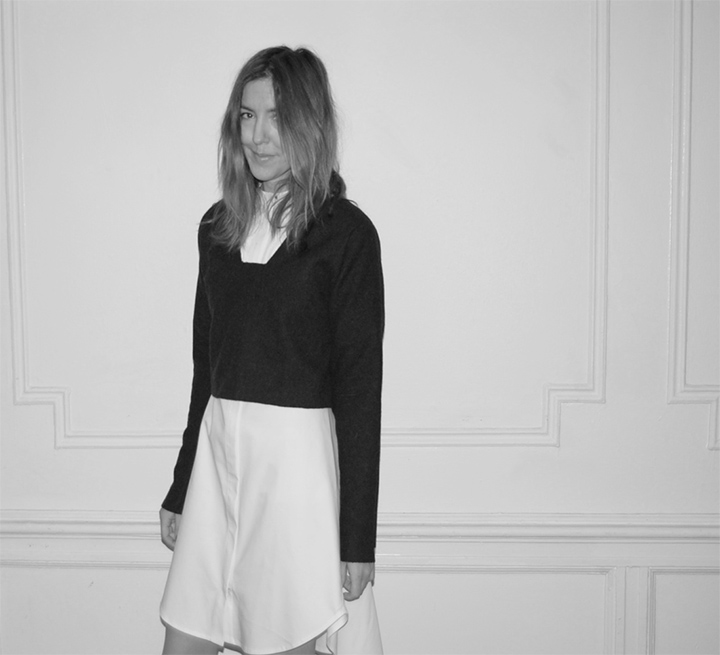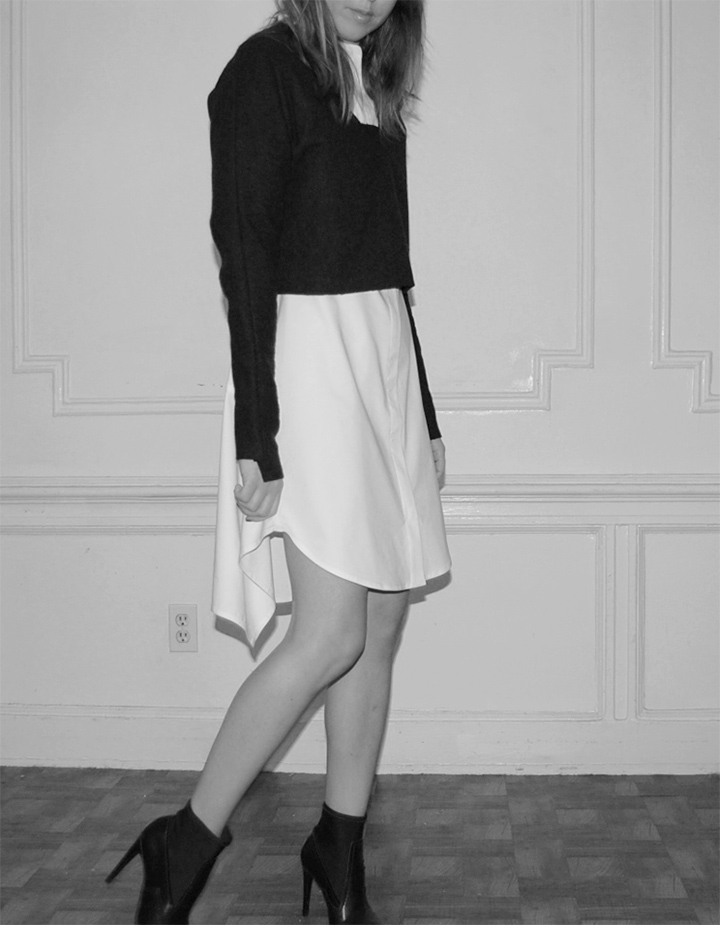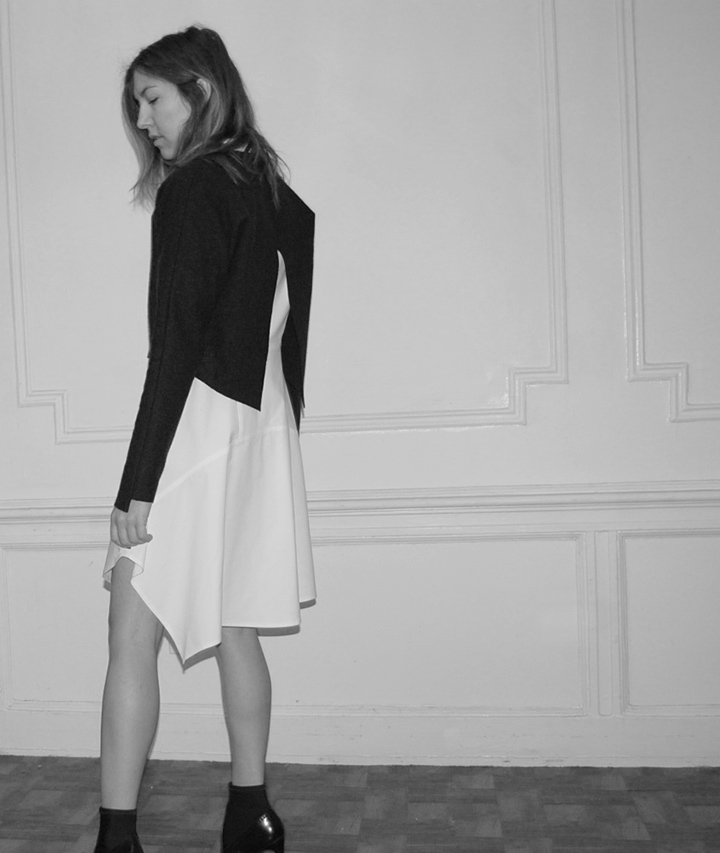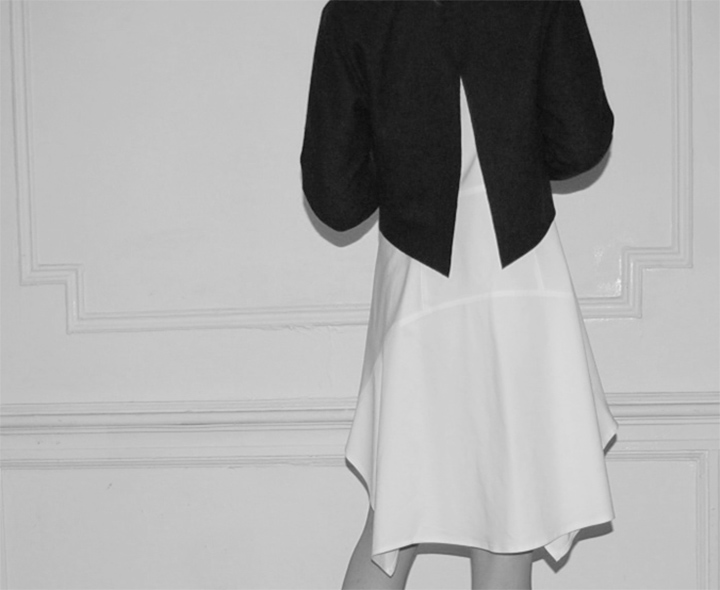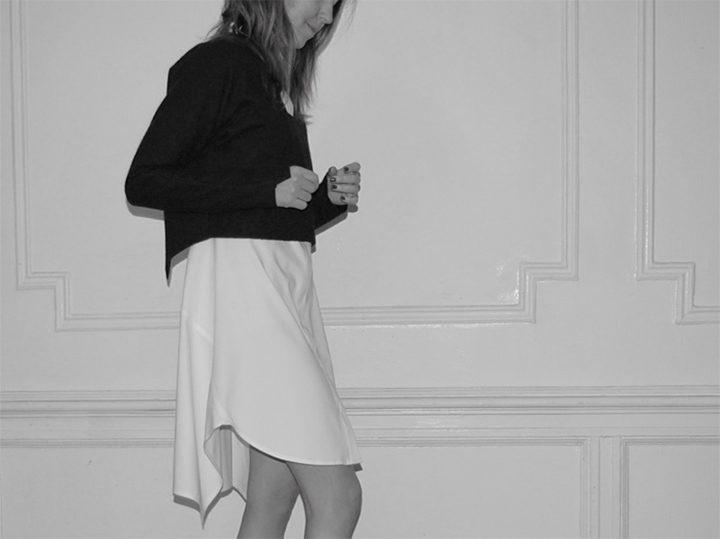 JANUARY DESIGN: I XIV
Made from silk crêpe de chine, I designed a style that has the soft ease of 1970′s glamour and infused the structure from the chunky chokers seen on the runways. Perfectly paired with high-waisted denim, the shorter back and longer front makes for an eye-catching silhouette whether you are coming or going.
Remember my inspiration board for this style? 
2013
JUNE GARMENT: Multifunctional Dress
A few months ago I tried on this amazing Electric Feathers Dress, and I fell in love with its versatility (you can wear it about 30+ different ways). Unfortunately, the one size fits most sizing, was much too big for me. So this month, instead of designing a new style, I decided to make myself a smaller version of this multifunctional dress, using yarn dyed linen. In the past few weeks I've worn this dress a handful of times, but I've always managed to tie it differently. It's a perfect dress for traveling! See all the ways to wear it here.
(worn with Vintage Sunglasses, Bing Bang Earrings, Quarry Ring, Chloe Sandals )
MAY DESIGN: Structured Dome Top
In an effort to lighten up my summer wardrobe, I opted for optic white when making my May garment. Pleating this heavy white vintage canvas helped created the dramatic dome shape in the back, and allowed the front neckline to stand on its own. I'm loving the all white look for summer, although it would probably look better with a tan.
 Worn with Helmut Lang Jeans / Chloé Sandals / Cheap Monday Bangle / Elizabeth & James Sunnies / Bing Bang Studs
APRIL DESIGN: Cocoon Dress
If you remember my March Design, then you are probably sensing a pattern. I've been experimenting with new shapes and a new approach to design. Usually, I sketch the style I want to make, then I choose the fabric and draft a pattern. My design process is more organic now, by choosing only my fabric, I sit with my dress form and drape, letting the fabric guide me. Some days are all about trial and error, but when making this dress, it took form right away.
Worn with: Elizabeth & James Sunnies / Chloe Sandals
MARCH DESIGN: Geo V-Neck Vest
Spring has finally made it to Brooklyn! You can tell by the photos we took on our roof this morning- the sun is shining bright! For my March Project de. Design, I decided to experiment with a new silhouette made from simple shapes. I'm very happy with the outcome and can't wait to wear this dress many times over this summer. I used a structured vintage fabric for this dress, although I think it would work in a softer silk as well. Enjoy your weekend and the official start of Spring!
FEBRUARY DESIGN: Double V-Neck Vest
As soon as February hits, wardrobe boredom sets in and the thought of dressing for Spring consumes my thoughts. Taking this into consideration for my February Project de. design, I went with a double v-neck loose vest with open side slits. Right now it works well layered over a classic button down and skinny jeans but come Spring/Summer, this piece will be a staple. I can already see myself wearing it over vintage slips, simple skirts and at the beach over my swimsuit.
JANUARY DESIGN: Angular Leather Skirt
Today marks the official return of Project de. – my vow to make one new garment every month for the entire year. For January I decided to make a not-so-basic black leather skirt. Keeping the length short , with a layered look makes it versatile to dress up or down. I've obsessed over angular hems recently so incorporating them into this leather skirt was a no brainer.
Two weeks into the New Year and I am keeping up my resolutions! Not only did I make this leather skirt, but I also put my outfit together with older pieces from my wardrobe – a favorite Madewell sweater, vintage belt, Cynthia Rowley tights (shear in the front and solid in the back, love the 60′s vibe and the practicality), with my LD Tuttle boots.
More Project de. this way…