This post is not meant to scare you, but do you know what is in the products you use on your hair and skin everyday?! Well neither did I until I downloaded the app Think Dirty. This well designed app allows you to scan the bar codes of beauty and personal care products and scores each product 0-10 (0 is clean and 10 is dirty). This rating system's based on published studies about the ingredients in the product and how harmful they are to you.
After scanning the entire contents of my shower and medicine cabinet, I found that almost everything, including products that are advertised as organic, contain toxins and cancer causing carcinogens and most of my products scored a scary 7 or higher on the Think Dirty app. I've said this before, but I will say it again, if we spend so much time and money buying organic food, why wouldn't we do the same when it comes to the products we put on our skin (our largest organ)? I've made the decision to transition over to all organic beauty products. While I still have to do some major research on new shampoo and conditioner, here are the products that fit my new organic regime that are already in my medicine cabinet, and here is how I use them…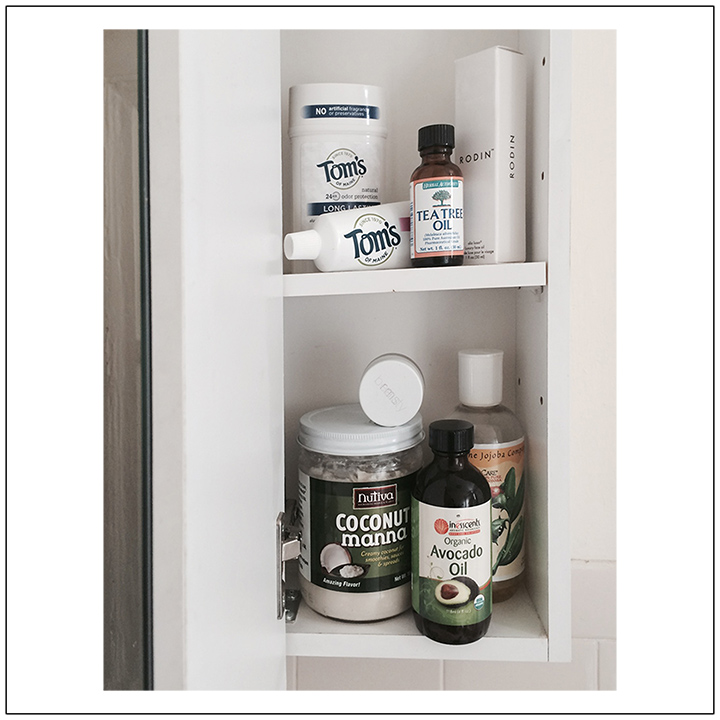 Tom's deoderant // Keeps me dry and smelling fresh even through my bootcamp class.
Tom's toothpaste // Pretty self-explanatory, but it keeps my pearly whites whiter.
Tea Tree oil // When I have a painful zit under the surface of my skin, I put this very pungent oil on the spot at night and by morning it is significantly reduced and pain free.
Rodin Face oil // This face oil is a luxury, so I only use it twice a week when my skin is still moist, after my evening shower.
RMS Beauty Un Cover Up // To help hide my under eye circles and uneven skin tone. RMS Beauty just came out with an organic mascara, I am so looking forward to trying it!
Organic Coconut oil // So many uses, but I use it primarily to shave my legs, remove eye makeup and oil pulling (more on that later).
Organic Avocado oil // I use this under my eyes at night instead of eye cream, I wake up with my under eyes feeling hydrated and soft.
Organic Jojoba oil // I use this as a daily face moisturizer and a body moisturizer because it absorbs into the skin quickly, every once in a while I will opt for Vitamin E oil for my body if I am going right to bed.
Do you have any organic beauty products to recommend?