Are you sick of hearing about this yet? In my quest for the perfect 5 pieces for the season, I was originally overwhelmed, but now, four months into my first season (which ends June 30th), I have narrowed my scope and thought I'd share my progress. Here's a little refresher of the 5 Piece French Wardrobe guidelines.
I bought my first piece of the season about a month ago, a pair of white linen wrap pants from New York based brand Apiece Apart, I posted a preview of them here. I promise to post a better photo once it is warm enough to wear them outside. As for the rest of this season's pieces, here is my wish list.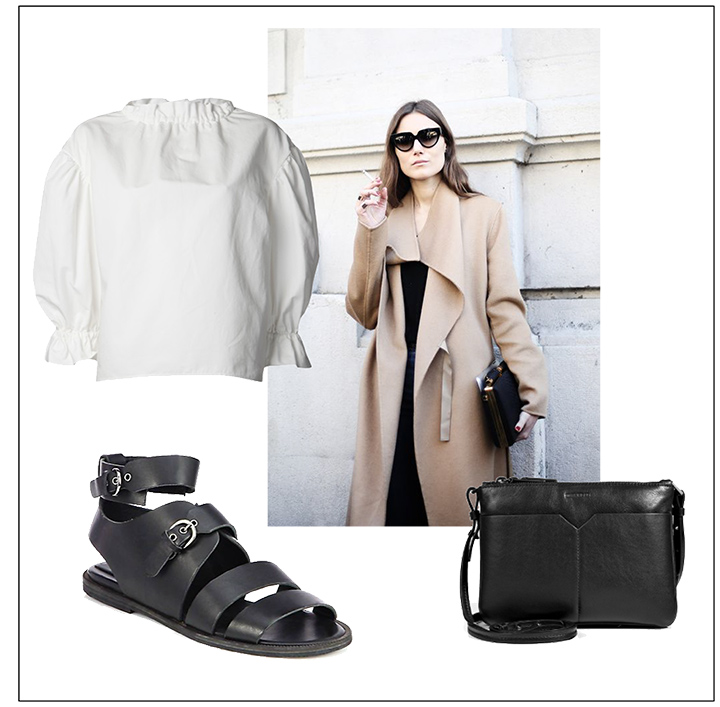 Atlantique Ascoli Ballet Russe blouse // I love the feminine structure of this blouse, but I can't find it anywhere. Let me know if you come across it somewhere in your travels, I would be eternally grateful.
Trench Coat // I am aware that the coat in this photo is not actually a trench coat, but instead a camel wool coat. But wouldn't the color and the easy shape translate beautifully into lightweight waterproof fabric? Didn't I mention this was a wish list?
Jil Sander sandals // I spent the better part of Thursday afternoon scouring my favorite Soho shops for the perfect summer shoe. I stopped by Tibi and tried on these loafers, and while they pair perfectly with black skinny jeans, they don't work with any bottoms shorter than a two roll cuff. I found myself at the corner of Howard and minimalist heaven when I tried on these Jil Sander sandals. Flat, strappy and black, all the things I look for in a summer sandal. I got them, so that's two down, three to go before the end of June.
 Jil Sander bag //  Compact, multiple compartments and minimal styling, this makes a perfect little black bag. Now that I don't go into the office everyday, it is more practical to downsize. Now I have to pull together the cash and this little guy is mine. I just hope it stays available and on sale until that happens.
Did I mention I bought a winter coat yesterday? Right, maybe it counts towards this season's 5 pieces, or next season's, I haven't decided. But since I've been looking for a new winter coat for over 3 years, I couldn't pass up the blue (same color as the leather skirt I made a few weeks ago) alpaca coat I found at the Maria Cornejo sample sale for 75% off.