February is the shortest month of the year, but it is jam packed with events including Fashion Weeks around the world, my birthday and Valentine's Day. Whether you are celebrating one of these holidays, or trying to survive the wintry weather, my February List might help get you through to March.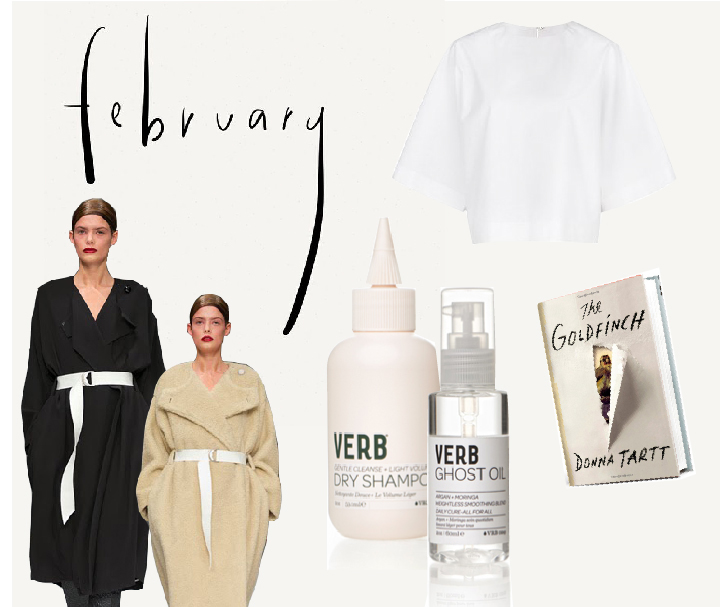 To See: New York Fashion Week starts in just a few short days, and while I plan on attending a few shows, I looked to Copenhagen fashion week for a little styling advice on what to wear. Carin Wester's Fall 2014 collection offered an easy update to oversized outerwear with a simple cinched waist, can't wait to try it!
To Beautify: A huge fan of dry shampoo, but not of the white residue it often leaves behind, I'm excited to try a new brand, Verb which is said to be colorless. I was so seduced by the simple design of the packaging and minimal branding,  that I couldn't help but pick up Verb's Ghost Oil as well. I figured if I use oil on my body and face, why not my hair? I'll let you know how it all turns out.
To Read: In my downtime, between shows, on the subway or snuggled up at night, I look forward to reading The Goldfinch. A story about art, love and identity. Let me know if you've read it!
To Wear: With Spring-like temps this weekend and the white snow covered streets this morning, I can't help but think of crisp white poplin shirting. It might not be exactly weather appropriate for today, but I can't get enough of white voluminous poplin tops, including this one from Mango. Although my true love is this style from Serena da Conceicao.